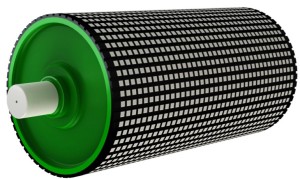 General Properties:
Ceramic pulley lagging ensures continuous system operations and optimum drive traction. Ceramic lagging also effectively removes any fine material buildup from extreme operating conditions.
Improves belt traction, eliminates slippage
Increases belt and pulley life
Offers exceptional wear and abrasion resistance
Installs easily
Minimize system downtime
Helps lower your cost per ton for moving material
Product Details:
Ceramic pulley lagging is a combination of high quality alumina ceramic, dimpled, profiled drive segments that are molded into a base of specially formulated natural and butadiene rubber. ICL America Ltd. lagging is designed to provide complete coverage of the pulley face, with ceramic drive segments spaced equal to or wider than the belt width.
The individual lagging segments are 15" wide with a maximum of only 2" of rubber on each side of the ceramic segment extending to the pulley edge. The standard lagging is manufactured to 1/2" thickness. The individual ceramic drive segments are placed to ensure optimum performance, and to eliminate the loss of ceramic tiles from the rubber base, as is common with other ceramic lagging products. The ceramic segments measure .75" x .75" x 0.255".
Roll Sizes in Stock:
1/2″ x 15″ x 33′ – LONG CERAMIC LAGGING SQUARE with BL
1/2″ x 8″ x 33′ – LONG CERAMIC LAGGING TRIANGULAR with BL
5/8″ x 15″ x 33′ – LONG CERAMIC LAGGING SQUARE with BL
5/8″ x 8″ x 33′ – LONG CERAMIC LAGGING TRIANGULAR with BL
Download